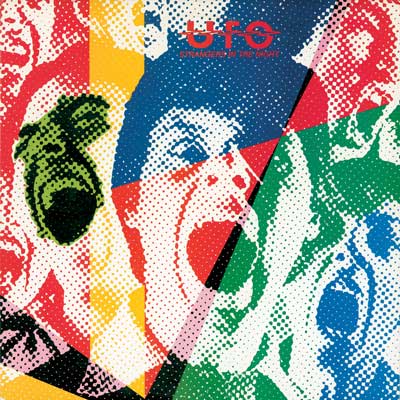 THE STORY BEHIND THE PIECE – Sounds writer Garry Bushell's on the road story with UFO from 1980 features in issue 2 of Rock Candy Mag. But here you can read the full, unabridged version…
Thunder spreads across the weather-beaten face of the Selecter's roly-poly coach driver Tennessee Romain Reynolds.
"UFO?" he yelps. "Them guys are crazy, man. Cray-zee!" He thumps the breakfast table like he's an SPG man working out on a demonstrator's skull, sending half-eaten tubs of jam scurrying floor-wards, and carries on ranting. "They're the biggest bunch of jerks I've ever met. They're fuckin' animals. I ain't ever having them fouling up mah bus."

Some sixty hours later the leader of the animal pack, UFO vocalist Phil Mogg (age indeterminate) is living up to his reputation, out of his box on booze and downers and making a drunken lunge at your humble reporter with a view to hurling my sylph-like frame into the cool hotel pool.
I'd been lazing around soaking up the local colour of a warm Texas night, my mind happily idling in neutral after a midnight barbeque prepared by master chefs Paul 'Tonka' Chapman and Pete 'Plonker' Way, but I'd smelt Mogg's boozy breath at two yards.
With a speed that would've brought tears to the eyes of my old games master and the ease of a fixed wrestling bout I grabbed his noggin and heaved him over my right shoulder, leaving him to topple helplessly into the water in my stead.
The night after I'd left to fly home Mogg got even more out of it after a gig at McAllen, in Hildalgo County down by the Mexican border, where he was suddenly seized by an all-consuming belief in his own ability to fly.
The UFO singer had then leapt off a first floor landing to soar with the grace of a 16-ton weight towards the floor and galloping unconsciousness. He was revived by the promoters who he promptly decided to 'do'. Punches were thrown, the cops were summoned. Mogg ran and hid, fell akip, and woke up the next morning with the Hulk working out in his head and a broken left arm. This, says Pete Way, had the same effect as plunging a honeymoon hubby into an ice cold shower. Instant calm down; the taming of the Mogg – for the next few weeks at least.
Ah, but I'm devouring this tale the way Buster Bloodvessel would polish off a triple Big Mac, bits flying off in all directions and a massive smear of melted cheddar dripping down my collar. Let's begin at the beginning and do this proper, like. UFO had been touring the States since the end of March, starting off with their weakest areas along the East Coast and working across to strongholds like Chicago. You could say they're currently sitting comfortably in the Yankee Division III, (Division I being the real mega-buck merchants, Zeppelin, the Stones, the Who etc; Division II Aerosmith, Nugent, Heart...) which is still pantechnicons of plastic bigger than label-mates and current Stateside big buzz the Specials, for instance.

This tour has fitted in with previous trends, their audience getting slowly larger, but it would take a massive selling FM single to secure their promotion to a bigger division. And as that doesn't look too imminent they're left with the approach that they built their career with – the long hard slog.
I joined them on the Southern leg of the tour to find them co-headlining with moronic Maple Leaf mayhem merchants Triumph, whose set is like Guy Fawkes Night gone wrong, catherine wheels and sparklers going off all over shop. John Knowles describes it as "like being on tour with Southend Pier".
At first this seemed a weird arrangement but there's method to the madness. The US rock market appears to be in the grips of a mini-recession at present and as both bands had planned to hit the Deep South simultaneously it seemed more sensible to tour together rather than compete for precious punter pennies.
Technically UFO are headlining (they're getting paid more) but Triumph are going on last because of the intricacy of their armoury. It takes much less time to clear UFO's backdrop and gear than it would theirs.
Houston Coliseum, an Earls Court size emporium, is the first show I catch; not a happy experience. I park my arse near the back in the midst of a miserable shower who sit passively passing round dope and downers while a few more active Yetis yelp and hurl fire crackers over our heads. What fun. Meantimes the band are just micro-specks on the horizon and I just can't get into the experience at all (man), although Moggy's Triumph-piss take hollers of "rocknroll-y'all" are pretty funny, to a few of us at least. Ah, but next night at Austin Municipal Auditorium is in a different league; if I were Geoff Barton I'd probably be claiming it as one of greatest UFO gigs of all time…
As the opening track, 'Alpha Centauri' builds up enough electricity in the atmosphere to power a Close Encounters mother ship, I slip into the photo pit for a quality close-up rendezvous with the thinking man's guide to the craft of heavy rock. It's the set UK fans saw everywhere from Hammersmith Odeon to Glasgow Apollo earlier in the year, but still delivered with a killer punch and genuine conviction.
Take Pete Way. It may be as Michael Schenker once said that "that man's brain does not function", but strap a bass guitar on the loveable goon and it's like he's got a million volts coursing through his substance-damaged body. He curls over the amps above my head, crouching, squatting, twisting, turning, and putting his all into the performance, sweating like the proverbial glass-blower's arse. Pete's wearing his trendy Cockney Rejects t-shirt tonight; and the gallant East End gents get toasted several times. Mogg winks as he sings a spirited 'Lights Out In West 'Am', followed by a rollicking fine 'Tony Gordon Please' to the tune of 'Doctor Doctor' (a name check there for the Rejects' butterball manager), and just to get the atmosphere right Paul Raymond gobs all over us. Nice.
UFO are such an over-the-top experience, that it's sometimes easy to forget what a damn fine hard rock band they are. Their set is suffused with diamond ditties, not least 'Shoot Shoot', 'Doctor Doctor', 'Let It Roll', 'Rock Bottom' and the mighty 'Lights Out' – the 1977 album of that name cemented their legend, but for many fans last year's double album 'Strangers In The Night' is the score to beat. Hard rock may be wildly unfashionable, especially in the media, but it didn't stop the album from going Top Ten. Suddenly the band was playing four consecutive nights at Hammersmith Odeon instead of one.
Success in the States is harder to come by, but they seem to relish the challenge. Mogg in particular enjoys every minute on stage, peppering his stage patter with impressions of Triumph, muttering "Fanks a lot mate, ta" in an exaggerated Cockney accent and generally taking the gypsy's kiss.
Cynics said they'd never replace Michael Schenker, but Tonka excelled himself with some gorgeous guitar-play. Or at least he did until he staggered into a stack and managed to knock an amp over onto his head.
Mercifully the amp was undamaged.

Mogg's most interesting announcement of the night concerned the old faithful 'Cherry' which was apparently inspired by a local Austin night club called the Crazy Lady, a hard rock disco replete with topless waitresses which we never got round to revisiting. Not that the tour bus is bereft of joys. It costs three grand a week to hire and is stuffed full of liquor and videos of such cinematic classics as Dirty Harry, Monty Python And The Holy Grail, and Debbie Does Dallas – the only porn film I've ever seen with a plot.
UFO'S major failing is their inability to turn up at gigs on time. "We call ourselves the shower," Pete Way confides. "All these other bands do everything perfect, sort of like James Bond, but everything we arrange goes to cock."
Everything, that is, except hotels. At Houston we stayed at the space age Hyatt Regency while at Austin we were booked into the out-of-this-world Lakeway Inn which overlooked some serenely beautiful countryside and a pure blue lake full of motor boats and water-skiers...I confess I threw a sickie and stayed on here for an extra day's holiday, lapping up the sun and the lager and listening to Tonka Chapman's hilarious John Bird/Idi Amin repertoire. I even had the odd serious chat with Moggy...
At various times on the trip he'd come out pretty strongly against the sort of rock album getting released over home at present, no names no pack drill. "It's so easy to write an HM cliché album, bung down a few riffs, and holler a few lyrics about killing babies and rocking after midnight, y'know," he says, judiciously dropping you a clue as to who he's on about.

"Our next album's gonna be raw but it won't be that sort of easy cash-in. We plans at present are to record an album for autumn release – which is something we've never ever done before, bring out two albums in a year. And we'll probably produce it ourselves too, in this little North London studio, because the sound we got on TOTPs for 'Young Blood' was so much better than the album version. Overall I reckon the album will be half really adventurous and half really raw sounding. Lyrically I'm not interested in all that metal clichéd stuff, I'm more into writing adult songs...Now you take Bruce Springsteen; his songs like 'Racing In The Streets' paint perfect pictures of American life. He really knows how to use words."
In between recording the LP, the band have slotted in a few big festivals, one in France last weekend with the Clash, and a Reading headline in August. Then there will probably be a new UK tour with a revamped stage act including a shake-up of traditional numbers and a bit of risk-taking on the live front in general. The low-key Marquee gigs that they're trying to fix up to showcase a whole new set of new songs will be unmissable.
Pretty soon our attention strayed from serious journalistic probing to the charms of our sun-soaked surroundings. Moggy sipped an ice-cold lager and smiled. "In the immortal words of Larry Wallis, just think: we're getting paid for all this." But soon the heaven on earth tranquility was ruined and the evening slowly degenerated through football matches, Tonka's barbeque ("At school, cooking was the only thing I was ever any good at," he recalls), crazy roller-skating, and the feeble fight scene that opened this feature. UFO. They're on another planet.
---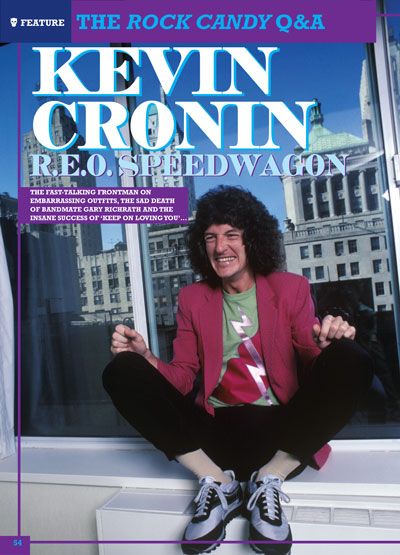 THE STORY BEHIND THE PIECE – R.E.O. SPEEDWAGON
When we asked our old buddy and longstanding R.E.O. Speedwagon fan Xavier Russell to interview frontman Kevin Cronin, we knew things would go well. But Cronin was so generous with his time that we couldn't fit anything like of all his words into a two-page Q&A in Rock Candy Mag issue 2. But we knew you'd want to hear what he has to say, so here are the fascinating outtakes from the interview for you to enjoy…
Firstly Kevin, it was great to finally see REO Speedwagon back in the UK again last December supporting Status Quo. How did that tour go for you?
"The first few shows were a little mixed up production-wise, because the small stage space we were given was something we weren't counting on. But we made the most of it! In London our drum kit was pushed over stage left. It wasn't in the centre of the stage where we're used to it being, and that's how it was for the first couple of shows. It messed with my head, it sounded weird and it felt weird, so we did a re-shuffle and by the time we got to Cardiff the drum set was back in the stage centre where it belonged. From there on we kinda hit our stride."
I loved the fact you sang 'What's New Pussycat' in Cardiff, in recognition of Welsh crooner Tom Jones.
"I wasn't sure how that song would go down with a Welsh crowd, but the Quo fans seemed to like it and by the end of the show they fell in love with us. It took a lot of wooing though. It felt to us like the majority of Quo fans were sceptical of us because the name R.E.O. Speedwagon sometimes conjures up images of nothing but slow songs. The hits we had tended to be the lighter material. Quo fans were probably expecting us to sound like Air Supply! But we kept pounding them and by the time we got to 'Roll With The Changes' the majority of Quo fans were with us and up on their feet. It was cool, because it was a challenge. It made us feel we were starting over again and the guys in Quo couldn't have been nicer. They treated us so well and made us very welcome."
So will you be returning to the UK for a headline tour soon?
"We're already talking about it. The response we got from the Quo tour was very positive and the people at the agency liked what they saw. They wanted us to come back and headline right away, but I wasn't sure that was the right thing. I think it would probably work better if we came back to the UK with another band where the pairing is a little better. Say for example Styx, whom we've toured with quite a lot over the past few years. I can't tell you when we'll be back, but I doubt it will be this year because we've got this big US co-headline tour with the Styx planned, and I was just away from home too much last year. But we will be back sometime in the future."
What was the music scene like back in the late '60s in Champaign, Illinois when you were all kids?
"There were College Campuses all over the USA, and Champaign was no different. I was still in high school around '68, '69, but campuses around the country were really starting to get up in arms. The Vietnam War was raging out of control and rather than ration it back, it was becoming a bigger thing. In 1970 the US Government ended what they called 'college deferments'. Up until then, if you went to college you could avoid being drafted and avoid going to Vietnam. But in 1970 some of the people in the civil rights movement, and justifiably so, said, 'Well wait a minute, why do these kids who go to college not get drafted and our kids, who are from poorer backgrounds and can't afford to go to college, get drafted?' The US government agreed, so college deferment ended and then the college kids said, 'Fuck this! We don't want to go to Vietnam!' and that's when the anti-war movement really blew up. A lot of anti-war music appeared, a youth movement was slowly taking over, and music was a big part of it. There were a lot of bands in Champaign at that time, and R.E.O. Speedwagon rose to the top of the heap!"
R.E.O.'s breakthrough album was '78s 'You Can Tune A Piano... But You Can't Tuna Fish'. Why do you think the album made you commercially successful?
"I think people perked up when they first heard 'Roll With The Changes' and the radio community around the United States liked what they heard. And then 'Time For Me To Fly' was released, we got a little success with that song and people started to pay attention to us. It was also the first album we'd produced ourselves and that was a big deal for us, because we never really felt any of the producers we'd worked with previously could capture the R.E.O. sound. Surprisingly, the record company allowed us to produce that one ourselves, so we could control our own destiny."
The cover was pretty noteworthy too…
"We sent our crew down to Long Beach to pick out a nice-looking tuna, we stuck a tuning fork down its throat, then drove out to Joshua Tree National Monument and shot the album cover. There was no Photoshop back then. That's a real tuna and the sun hit the tuning fork just right. We were pretty proud of that cover."
The follow-up to that release, '79's 'Nine Lives', is still one of my favourite R.E.O. albums…
"'Nine Lives' was a very different beast from the previous record. The pendulum swung back and forth. 'Tuna Fish' was more my influence, jangly and softer tunes, while 'Nine Lives' was more Gary's influence. There was definitely more guitar and the songs were a lot heavier. That's what I like about R.E.O. All our albums have a very different feel to them."
1980's 'Hi Infidelity' was an insanely successful record…
"That was our ninth studio album and we were used to getting really excited about an album when we finished it and then having it fall flat on its face. We were excited about 'Hi Infidelity', there was a good vibe in the studio and there was a good vibe in the band; we were all getting along really well. I remember shortly after we finished the album we went straight back out on the road and didn't know what was going to happen or how the public would react to the record. Anyway, we got to Baton Rouge, Louisiana. We were playing at the arena there and normally they would tape a curtain across the centre of the hall. That way they had about 3,000 seats to sell. We'd normally sell half that if we were lucky, because we weren't that big down in Louisiana. Well I woke up the morning of the show and looked out of the window of my hotel, which was across the parking lot from the arena. I saw this line forming outside the venue, which was normal. But then by about five in the afternoon the line had gone all the way around the arena. I was shocked. I was wondering what was happening, but something was changing. They ended up taking down the curtain and sold 12,000 tickets, and there were still a couple of thousand people outside wanting to get in. That's when I first realized that something special was going on."
Did drummer Alan Gratzer really leave the band in 1988 to open a restaurant? Did you ever eat there and was it any good?
"Yes, when Alan left R.E.O. he moved to Santa Barbara and opened a restaurant called 'The Mona Lisa Café'. I used to eat there a lot. The restaurant was gourmet American food and it was very good. There was all this amazing artwork on the walls and the restaurant did very well, it was very successful for Alan. He's since retired and is now living up in the mountains in northern California. Whenever we play in Sacramento or Reno he comes out onstage and shakes a tambourine and does background vocals on 'Roll With The Changes'. Alan was a real special dude and you've got to remember he started the band. In many ways he was the leader of the band. Not musically, but he was the most level-headed of all of us, so if [guitarist] Gary [Richrath] and I were arguing or fighting over an overdub or a song, Alan would be the one to calm the situation down and help bring us back together again."
Which raises the question of what led to Gary leaving the band in '89?
That's a complicated question Xavier, but the short answer is that the creativity just wasn't there anymore, and it just wasn't working. So either the band would break up or something would happen between Gary and I. I knew the combination between us wasn't working like it used to, and it was really up to the band to decide what they wanted to do, either just call it quits, or go with Gary or go with me. The band ended up going with me. When I look back on it now I feel really sad. I thought for sure that Gary would be out of the band for a year, two at the most, and then he'd realise that he'd be better off being back with us. He knew the door was open to him, but it never happened, and I still feel sad about that. You look back and say, 'What could I have done differently to help Gary come back?' In retrospect it might have been better for us just to break the band up, but I'm glad we didn't because to this day I channel his energy every time I walk onstage and I always will."
Was it hard to deal with the band becoming less popular than it had been in those crazy days of the early '80s?
"We knew deep down that there'd be a downside to the success we'd achieved. With 'Hi Infidelity' we were at the peak of our popularity, and you don't stay at the peak forever. You climb up the mountain, reach the peak and then climb down, and you have to realize that there's another peak in the future where you pick yourself up and start climbing up again. We had our share of peaks and valleys over the years, but we always look at that as a challenge. We've maintained a fan base so we can always tour. There's a love we feel in America that's always there, and that really keeps us going."
Which album best sums up R.E.O. to you?
I guess it would have to be the 'R.E.O/T.W.O' record, which was the first album I made with the band. I haven't heard that record in a long time, but that was us at our most raw. We were all young and hungry, and we didn't know what the fuck we were doing. We were just rocking our brains out and enjoying every minute of it. So I guess I'd have to say that one."
And what personal recorded performance are you most proud of?
"Funny you should ask that question, because just yesterday a fan sent in a piece of video from I believe he said was from 1985, filmed at the Kemper Arena in Kansas City. It was a rendition of 'Roll With The Changes' that we did on that tour, where I started the song on acoustic guitar for the first couple of verses, then the band kicked in and we played the rest of the song electric. Rick Nielsen and Robin Zander of Cheap Trick came out and sang the 'keep on rollin'' chorus part of the song. I believe it was the final show of the 'Wheels Are Turnin'' tour and that was a real high point for the band because after 'Hi Infidelity' we'd gone down a bit popularity-wise in 1983. Then in '85 we climbed back up to the top again. It really felt good and it was just a triumphant performance. Normally I wouldn't look at old video clips, but my manager said 'You gotta watch this.' So I watched it and was totally blown away. I could really feel the energy coming off the stage and it really put a smile on my face."
Have you ever been tempted to record a solo album?
"Yeah, I've been tempted a number of times of the years and I never quite get round to it. At some point maybe I will record a solo album, but at this point I feel so well represented in R.E.O. Speedwagon. The band has a great chemistry right now with the five band members. We've all matured over the years and each one of us respects what each brings to the party. When I bring a song to the soundcheck or to a rehearsal it's like throwing a big piece of red meat into a cage full of lions – everyone jumps on it. I don't feel a huge urge to do a solo record because the band is pretty much in tune with what I'm looking for musically."
What gets you out of bed in the morning to do R.E.O. these days?
"Oh man, there's nothing better than walking out onstage and playing a song where I remember the moment of its creation, that little spark that made me start playing the chord. So when I go out onstage and play those chords I can feel the energy in the room and the love that people have for these songs. It's a gift that people give me on a nightly basis, and I guess I'm one of a small group of people that gets to experience that. So for me that's the ultimate rush and it puts me in a position where I want to give that back to the people. Every time I play those songs it makes me want to get up there and do it again, and try to do it a little bit better. Rock 'n' Roll music will keep you young. I'm out there still rocking, a sixty five year old man doing the same thing he's been doing since he was 12 years old. It keeps me young at heart. It's just a matter of staying healthy, so we can continue to perform at a relatively high level. You see us play at that level of intensity every night and you just can't make that shit up. When we look at each other and smile, part of what we're thinking is 'This is fucking awesome man!' There's nothing better... well there is, and I think you know what that is!"
You can read our exclusive interview with Kevin Cronin in the latest issue of
Rock Candy Mag
. Click here to buy.
---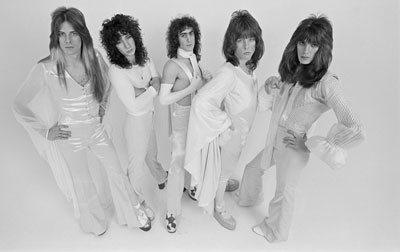 THE STORY BEHIND THE PIECE
When we were first brainstorming feature ideas for the début issue of Rock Candy Mag the editorial team liked the idea of tracking down our old musical heroes, the ones who had moved on and opted to do something different with their lives. In the end we decided the idea wasn't entirely in the celebratory spirit of the mag, but had already asked former Kerrang! Writer Dave 'Wiggy' Reynolds to research the whereabouts of former Angel keyboardist Gregg Giuffria, who we'd heard had made it big in the slot machine game. And here is the article he wrote...
DO GIVE UP THE DAY JOB: GREGG GIUFFRIA
Over six respected albums recorded between 1975 and 1980 with US '70s pomp rock troupe Angel, Gregg Giuffria carved himself a reputation as a keyboard parper par excellence. He was even more famous for his legendary two-tone, super-long hair, though, which was the envy of wannabe rock stars and junior metal fans alike.
Sadly, Angel became rock also-rans. Their brilliant all-white image and shiny glam/rock/pop hybrid was made for MTV, but the band threw in the towel in 1981, just as the cable TV station was gearing up to change the face of music forever by pumping out non-stop promo videos to a hungry US fanbase. Giuffria formed two more bands, Giuffria and House of Lords – the latter releasing albums on Kiss bassist Gene Simmons' label – before quitting in 1993, disenchanted with the music business. But Gregg's epiphany had happened three years earlier, thanks to his wife April's connections with former Chrysler Chairman Lee Iacocca.
"I was a 39 year old white boy chasing rock 'n' roll, with hip-hop coming in," explains Giuffria. "It was time for me to reinvent myself."
Iacocca advised Giuffria to look into business opportunities in patents that the US Defence Department was allowing to be released into the public sector. He found a company called Summit Systems that had a patent for a mathematical process that could potentially be useful in slot machines. Giuffria acquired rights to the patent and eventually sold them to a slot machine manufacturer. "I made more money from that patent than I had in 18 years of touring, writing songs and getting gold records with Angel," he said.
Giuffria then developed casinos in partnership with Iacocca, even building a Hard Rock casino near New Orleans, before he started making his own gambling machines.
In 2006 Giuffria was tipped off by Microsoft boss Bill Gates' bridge partner Bob Hamman about some newly developed card playing software. Giuffria developed it into an actual casino machine ('Texas Hold 'Em Heads Up Poker') that quickly proved to be a huge success.
Never one to rest on his laurels, Giuffria – now the CEO of G2 Game Design, has been developing new types of games for casinos ever since, recently telling the Toronto Star. "The concept of pulling the one-armed bandit is gone. The next generation is looking for a different entertainment value."
---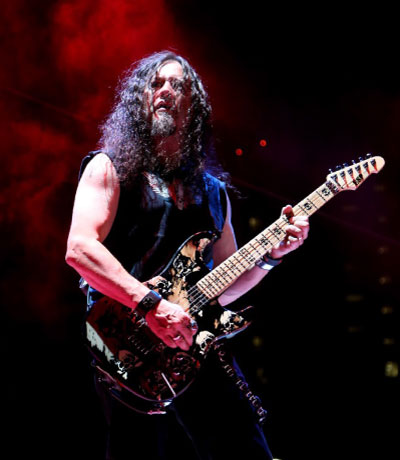 THE STORY BEHIND THE PIECE
The idea of revisiting images of sartorial inelegance from the '80s made us laugh. We all have photos of ourselves looking faintly (or not so faintly) ridiculous and wanted to celebrate our preposterous looks. Thinking readers would also enjoy sharing their photos from the time led us create the Rock Candy website's 'Rogues Gallery'. But we also thought it would be a good idea to create a feature in the mag asking our favourite musicians about their worst (or maybe best) times in the dressing up box. Queensrÿche guitarist Michael Wilton was a good sport and told us about the band's 1986 'Rage For Order' album "look" and the apparent need for an "appearance image", whatever the hell that is! In the end we dropped the piece because we couldn't get a decent quality pic of Michael in all his glory. We even got as far as designing the page with a low quality image. But we know you'll enjoy reading it all the same.
"I WISH I HADN'T WORN THAT!" - MICHAEL WILTON
BORN IN 1962, MICHAEL 'The Whip' Wilton – the nickname comes from the speed at which the guitarist whips his fingers around the fretboard – has been a member of Queensrÿche since the band's inception back in 1982. The progressive metallers from Bellevue, Washington have sold over 20 million albums worldwide and 1988's 'Operation: Mindcrime' is considered one of the finest heavy metal concept records of all time. Despite all this, though, Queensrÿche's image has occasionally made them look like right berks– and none more so than at the time of 1986's 'Rage For Order'. Wilton sportingly explains why on earth they allowed it to happen…
"The photo shoot for the Rage for Order album was a 1980s twist that the band all agreed to. We wanted to promote an image based on something the management people who were advising us at that time were keen on. They reckoned we needed an "appearance" image as well as an image for the music, whatever that means!
I have to be clear. This is just my opinion on my own outfit, which even at the time seemed to me to be a bit absurd and over the top. But regardless, we tried to have some fun with it. I think I was fighting the management's instructions a bit, trying to make my image as normal as possible and not look too much like the MTV "romantic vampire" that was popular at the time. But it still wasn't good! My long jacket was made to look more military, even though the fabric the designers used was more of a kind of '80s window drapery. The yellow undershirt was from a store on Melrose in Hollywood called Flips. I think that still to this day it's the only yellow t-shirt I've ever owned. My pants were a stretchy black spandex material fitting into my police-style, calf high black leather boots – inspired by KK Downing of Judas Priest, of course. But probably the craziest thing of all for me was having my hair straightened and colored with highlights.
The makeup artist on the day put full foundation with eye shadow on me, and everything else that a Hollywood actress would wear! My fiancée at the time, Kerrie Lynn, was at the photo shoot. When she first clapped eyes on me she simply gawked in amazement, then horror. Then she just started laughing. She came up to me and politely suggested that I wear something else instead. Then she told me I looked like my sister!
Nevertheless, the clothes I wore at that infamous photo shoot have been an interesting subject for me ever since. Trying to explain that look to my children and immediate family has been what you might call a challenge!"